8 Stackable Planters That Can Form an Instant Vertical Garden
You already know just how much we love vertical gardens here but what about an easy way to set up one from scratch? That's where stackable planters enter the stage. These are easy-to-use ready-made systems of planters that allow you to create a vertical garden from scratch.
If you're considering adding a small tower of greenery to your home, any of these sets could help you with the challenge ahead. To help you out, we scoured the net and reviewed leading options from various websites.
Stackable vertical garden planters you should look into
Here is a list of some of the best stackable vertical garden planters on the market.
1. Mr. Stacky 5-Tier Strawberry and Herb Garden Planter
This perfectly pink stackable garden planter is ideal for growing tomatoes, herbs, and other small plants. The planter allows for 20 separate growing locations in a compact and attractive design. It is also lightweight and easy to assemble so you can place it just about anywhere.
Watering the plants is easy because of the drip system that allows all plants to get the necessary amount of water.
Many users appreciate its sturdy frame that is able to withstand outdoor winds and elements, and the fact that you can use it to grow your favorite herbs just about anywhere.
2. Nancy Jane Vertical Gardening Self-Watering Stacking Planters
Some of the best stackable vertical garden planters are those that have the components to make your life easier, and this self-watering stackable planter from Nancy Jane will do just that. Each planter has three growing areas where plants can thrive easily due to built-in grids and tubes that keep all layers watered and healthy.
The planters can be stacked up to nine tiers high while a metal dowel in the center of the system keeps the planters secure against accidents and high winds.
The best part is that you don't have to worry about overwatering because the system allows the pots to self-regulate and the water is distributed evenly among the plants so you can sit and enjoy them without the worry.
3. Mr. Stacky Heavy Duty Stackable Garden Planters
Gardners hoping to grow larger plants or a wider variety in one place should look for a planter like this
large stacker that allows you to plant everything including peppers, strawberries, tomatoes, beans, and more.
Like any high-quality stacking planter, it has a drip-down system that allows you to water the top of the stack and have water evenly distributed to all 20 planters.
Made in the USA, this planting system is best used with a breathable soil with coco peat or perlite growing mix. This stackable planter can be used indoors or outdoors, and it creates a great focal point.
4. GreenStalk 5 Tier Vertical Garden Planter
Another heavy-duty stackable planter, this five-tier option from GreenStalk offers five planting levels with
six planting pockets per tier. It is made with a durable food-safe polypropylene plastic which helps to keep your plants pure and healthy, and it is crack resistant, so you can leave it outside without worry.
The beauty of this stackable planter is in its simplicity. All you have to do is add your favorite lightweight potting mix, insert your seeds, and watering is as easy as adding the liquid to the top of the system.
The system immediately starts dripping the water equally throughout the planter. You can grow everything in this hefty planter including beets, kale, sweet potatoes, baby watermelon, and more.
This planter is available in black, brown, green, and stone colors.
5. Houseables 5 Tier Planter
Gardeners looking to plant a variety of fruits and flowers will appreciate the stackable planter from
Houseables. Each layer has three pots large enough for bigger plants. The tiers stack in a zig-zag formation allowing you to make the final product the height of your choosing.
It is designed for both indoor and outdoor use and is built to withstand the elements. This is a great planter for beginning gardeners, and because of the drip system, maintaining your lovely plants is easy as pouring water in the top tier. A saucer base prevents excess water from dripping onto your floor.
6. Trifoglio Resin Vertical Garden with Saucer
This highly rated resin stackable planter system is a great addition to the home of a gardener who is limited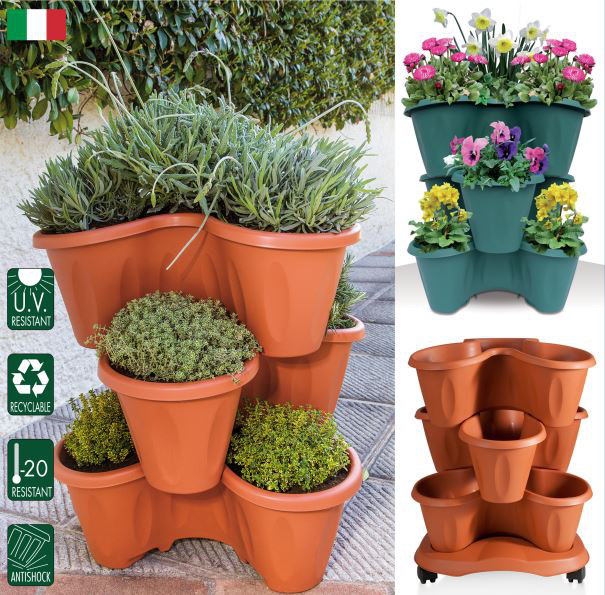 on space.
It features three layers of sturdy planters that are weatherproof and usable in temperatures as low as negative 20 degrees, but also offers a level of elegance when filled with flowers, herbs or veggie plants.
The size of the set is suitable but not overbearing, so you could easily have two or more of these units side by side with flowers in one, herbs in another. Whatever you choose. In the end, the unit is large enough to house plenty of plants while not being overbearing.
7. Emsco Group Bloomers Stackable Planter
Sturdy and aesthetically pleasing, the stackable planter from Emsco Group has three tiers capable of
growing a variety of plants. The planter creates ease of use with large planting areas that don't require additional digging to swap out herbs, flowers, or whatever you like.
The piece also features a rotating base so you can move it as the day progresses, so each plant gets equal sunlight. Drainage holes create a drip system, so you don't need to water each plant separately.
This is an excellent fixture for inside or outside, and it looks especially pleasing in the corner of a kitchen. Because of its construction, it is weatherproof and will not rust or crack from the elements.
8. Amazing Creation Stackable Planter Vertical Garden
This is a stackable planter kit that includes everything you need to get started with your compressed
garden. It's five tiers are vast enough to house 15 different plants as large as five inches so you can grow plants in varying sizes.
It is also made of a sturdy polypropylene so you won't have to replace it often.
This is another kit that is great for new gardeners and even children interested in a new hobby. The planters are easy to stack, and they are built with drainage grids, so watering is easy. This vertical garden is also decorative enough to sit in your kitchen and sturdy enough for your outdoor patio.
9. T4U Plastic Self Watering Vertical Living Wall Planter
If you lack floor space in your small home or apartment then you can still plant and enjoy your favorite
plants with this stackable planting system. You can buy a single unit or a set and build up from there. Line up more of them side by side, and you could have a plant wall right in your living room.
The setup features removable liners so you can transfer plants when necessary. The liners are also breathable so the roots can poke through and the water can drip down to all lower plants. This planting system is great for homes and offices.
10. Mr. Stacky Smart Farm
An ideal stackable planter set for gardeners on the go. The Smart Farm includes an advanced watering
system that allows you to fill the base and then set a timer for equal water distribution.
Made for long-term independence, the 16-gallon tank will last up to three weeks, creating less hassle and more enjoyment of your herbs, veggies, and flowers.
The planter comes with everything you need, including pipes, tubes, adapters and even some starter plant food. You can purchase it in several different colors, and the unique setup offers a bit of flair to the living room or balcony.
In Summary
Many gardeners believe that just because they live in an apartment or other small space, they cannot grow the plants they love. But the truth is, there are actually many ways that those with smaller homes can take advantage of this fun hobby whether it be with a moss wall, tin can garden, or by investing in one of these fully-equipped stackable garden planters.
A vertical garden set looks great inside and outside, they are built with watering systems that lessen the workload, and they allow you to plant many varieties of flowers, herbs, vegetables, and more.
Which of these stackable garden planters have you tried in the past? Which did you like the best? Share your success stories in the comments!