You've decided to take the plunge - you're going to start composting. However, as you search for the perfect compost tumbler, you might notice that many of them are made from various types of plastic. Even though they're often made from recycled materials, you might just prefer the feel of a metal tumbler. But where can you find them?
Well, you've come to the right place! We've selected several of the best metal compost tumblers - plus a couple that are plastic with metal stands - and provided links and descriptions right here in this post. We'll also talk a little bit about why someone might choose a metal compost tumbler over a plastic one.
First things first - a compost tumbler is used to transform garden and kitchen scraps into compost within a few weeks by using a combination of heat, moisture, and aeration created by turning the tumbler a few times per week using the crank on the side. It's a simple, painless way to compost and definitely easier and more mess-free than a traditional compost pile.
Many people like plastic tumblers for their security and durability - there's no chance of them rusting like there is with a metal tumbler. However, metal tumblers retain heat better, and there's a lower risk of chemicals leaching into the compost, which can happen with plastic tumblers. They're also much more environmentally-friendly, although the negative impact of plastic can be minimized by using tumblers made from recycled materials.
So, are you ready to see your options? Just keep reading!
Metal Compost Tumblers
1. Compact ComposTumbler By Mantis
If you have a small space and are looking for a compact tumbler that can still handle a lot of compost, you should definitely check this one out. It turns kitchen and yard scraps into compost in just a few weeks instead of months or years and keeps all unpleasant odors locked inside its steel drum.
Measuring 43" high x 42" wide x 33" deep, with an 88-gallon capacity, this tumbler will fit perfectly in your backyard or a corner of your hobby farm. It's made from rust-resistant galvanized steel, has fins inside that help break up clumps of compost as the tumbler turns, and it comes with a convenient stand.
Click here to find this compost tumbler on Amazon.
2. 106 Gallon Compost Tumbler By Jora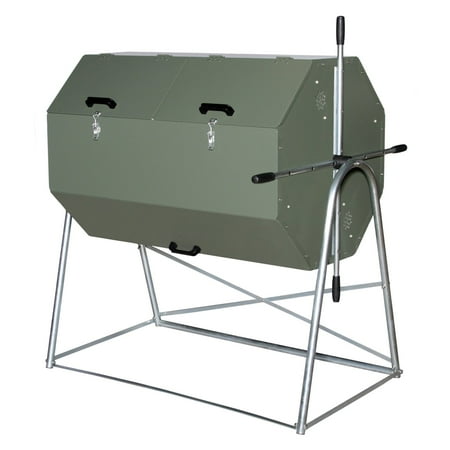 Cold weather doesn't have to signal the end of your composting days with this tumbler from Jora. Specially insulated panels make it possible for the interior temperature to reach 160 degrees F and higher even on the coldest days. Plus, these high temperatures cause your kitchen scraps to break down before they have a chance to cause odors or attract pests.
At 55" long x 32" wide x 52" high and with a capacity of 106 gallons, this compost tumbler could even support the needs of small restaurants or coffee shops. It's made from painted, galvanized steel to keep it in perfect condition for years to come.
Click here to see more on Walmart.com.
3. 33 Gallon Compost Tumbler By Jora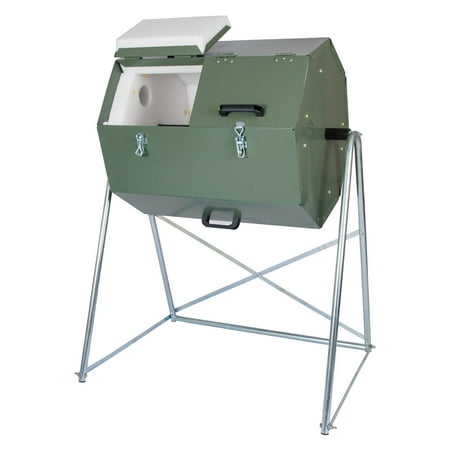 For smaller composting needs in a cooler climate, this Jora tumbler has you covered. Insulated walls make it possible to quickly create compost even in the cold, giving you a year-round supply of nutrients for your garden or houseplants.
This tumbler is made from painted, galvanized steel and has two separate compartments - one for the yard and table scraps that are still being broken down and transformed, and one for the mature compost. It measures 36" long x 27" wide x 48" high and has a capacity of 33 gallons.
Click here to see more on Walmart.com.
4. 65 Gallon Compost Tumbler By Lifetime
This round, compact compost tumbler can easily be tucked into any sunny corner of your garden to receive your scraps and turn them into lifegiving compost within a few weeks. It's a discreet way to avoid an open compost heap and all of the odors and pests that can result.
At 36" long x 35" high x 43" deep, you can fit about 65 gallons in this tumbler. It's made from thick powder-coated steel that's painted black to soak up the warmth of the sun and speed up the composting process.
Click here to view this tumbler on Amazon.
Compost Tumblers With Metal Stands
5. Back Porch ComposTumbler By Mantis
As the name states, this tumbler is the perfect size to conveniently sit on your back porch, right where you need it. The fully enclosed design keeps pests out, while a drainage vent allows you to remove excess moisture and use it on your plants as nutrient-rich "compost tea."
Made from green polyethylene, this tumbler coordinates perfectly with any garden. It measures 37" high x 31" wide x 26" deep and can hold up to 37 gallons - about 4 bushels.
Click here to view this tumbler on Amazon.
6. Tumbling Composter By FCMP Outdoor
If you're a person who likes using tried-and-true products, this is the perfect compost tumbler for you. FCMP Outdoor was the first to produce the unique 8-sided, multi-compartment composter. With the right conditions, you could be using your fresh new compost in under two weeks!
Measuring 36" long x 30" wide x 28" deep, this compact tumbler holds about 37 gallons. It's made from BPA free 100% post-consumer recycled polypropylene and stands on a galvanized steel base.
Click here to view this tumbler on Amazon.
Before you go, be sure to check out these other guides to help you get started composting -
How to Start and Maintain and Compost Tumbler in 7 Easy Steps