16 Plants For The Elderly That Can Help Fight Loneliness
Houseplants make wonderful additions to any home interior. But did you know that plants can also help fight loneliness? Doctors around the world have even begun to prescribe houseplants to give people a boost of well-being. Taking care of something else can take your mind off your loneliness and help induce a feeling of purpose and hope in your life. Horticulturists have also said that nurturing plants improves your mental health.
These indoor plants must be rather forgiving and easy to care for. These types of plants can tolerate going without water for a bit or not get attention for a few days. Forgiving plants lead to more gardening joy. Indoor plants are also known to purify the air by removing toxins from it. Because indoor plants provide lots of health benefits, it's no wonder they're so popular.
The following 16 plants meet all these criteria and are excellent choices for the elderly, as they can help fight loneliness. So, keep reading to find out more!
1. Yucca
There are more than 20 species of yucca plants. Yucca plants are found in both small and large sizes with varying characteristics. The coloration can even range from solid dark green to variegated cream, yellow, and white.
They're somewhat drought tolerant and don't require much water in the first place. They're slow growers, so they're sure to fit in their designated indoor pot for a reasonable amount of time.
Click here to see more on Amazon.
2. Nolina Beaucarnea
The Nolina beaucarnea is also known as a ponytail palm. This type of palm features a sleek trunk with long leaves that curl. It even has a bulb-like structure at the base. Its name comes from the way its leaves gracefully tumble from the stem, much like a ponytail.
This ponytail palm measures between 24 and 32 inches tall and is ready for planting. Whether you're a gardening beginner or expert, this palm is for you. It's effortless to maintain.
Click here to see more at Walmart.
3. Dracaena
The dracaena genus of plants includes as many as 120 different species. The great variety provides you with a lot of options as far as looks, size, and maintenance. Amazingly, this type of plant requires very little water and is very forgiving.
This Madagascar dragon tree (Dracaena marginata) comes in a 4-inch pot. You can transplant it as soon as it arrives.
Click here to see more on Amazon.
4. Snake Plant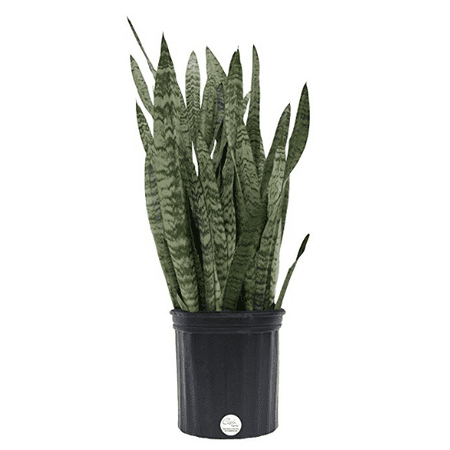 Snake plants are super low maintenance, making them one of the best indoor plants. They'll purify the air and look good while doing so. Snake plants only need to be watered once every week to two weeks. The plant grows slowly, but steadily.
When shipped, this snake plant will stand between 2 and 3 feet tall (from the bottom of the pot). Once you receive it, you can transplant it immediately.
Click here to see more at Walmart.
5. Philodendron
Philodendron plants contain over 450 different species; all of them are stout climbers, but slightly different in their looks and characteristics. Philodendrons don't require much care and readily adapt to the interior conditions of a home.
This heart-leaf philodendron comes in a 4-inch pot ready to plant. Place it anywhere inside that doesn't receive full, direct sunlight.
Click here to see more on Amazon.
6. Succulents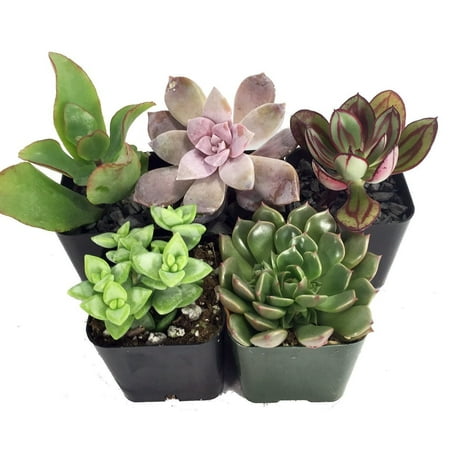 Succulents are staple indoor plants that have tons and tons of variety. They're drought-resistant, easy to maintain, and are very forgiving. In fact, it does succulents some good to be forgotten for a little bit. They require some watering and a good potting mix.
This pack of succulents includes five different varieties that come in 2-inch pots. Create your terrarium or individual planters with them.
Click here to see more at Walmart.
7. Spider Plant
Spider plants are some of the most popular indoor plants. They're easy to care for, and they look stunning. The hardy plants come in many colors and sizes; once they've reached maturity, the plant begins to form "spiderettes." These "spiderettes" extend from 2 to 3-foot leaves and look like miniature versions of the main plant.
This variegated spider plant comes ready to plant in a 4-inch pot. You'll enjoy this plant as it grows and matures.
Click here to see more on Amazon.
8. Jade Plant
A jade plant is a type of succulent plant that has thick woody stems and oval-shaped leaves. It makes for a fantastic houseplant because of its hardiness and ability to adapt to a variety of conditions. Amazingly, a jade plant has a long life, so you can pass it down for generations.
This order comes with a live jade plant in a 4-inch grower's pot. You can leave it in the pot while it grows more or transfer it to a new pot.
Click here to see more on Amazon.
9. Cast-Iron Plant
A cast-iron plant features long, dark green leaves from short stems. It's a member of the lily family, explaining its leaf shape and color. While it does just fine outdoors, it makes for an excellent indoor houseplant. The cast-iron plant grows slowly but steadily.
With this plant order, you'll receive a cast-iron plant in a 6-inch pot. Incorporate it into your interior home design.
Click here to see more at Walmart.
10. Peperomia
The peperomia is a genus of over 1,000 known species. While the varieties greatly vary in characteristics, they all grow slowly and are low-maintenance. Though they don't flower, they do have showy foliage; its foliage can be red, green, gray, or purple, and the colors can be solid, marbled, or variegated.
This order comes with two peperomia plants of the pilea variety. They're also known as a UFO or pancake plant. They'll ship in 2-inch pots.
Click here to see more on Amazon.
11. Air Plants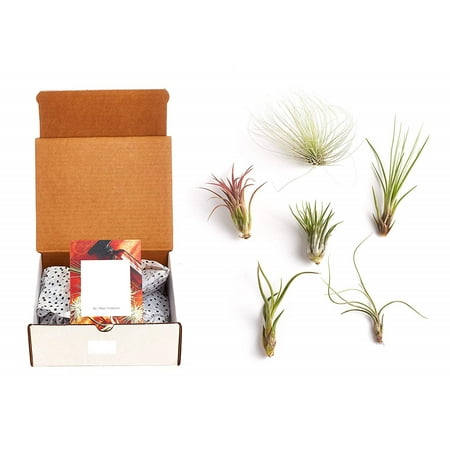 Air plants are one of the easiest plants to care for. To keep them looking their best, they just need a brief misting of their leaves. No soil is required! These types of plants get most of the nutrients that they need from the air that they're in. There are hundreds of varieties and species to keep things looking interesting.
Walmart offers a unique set of six different air plants. The pack includes all distinct varieties that range in heights between 2 and 6 inches.
Click here to see more at Walmart.
12. Aloe Vera
Aloe vera is not only a beautiful looking plant but also a medicinal one. The plant is short-stemmed, growing between 24 and 39 inches at maturity. Its leaves are thick and fleshy with spikes along the edges. The inner flesh can be used to treat sunburns and other topical ailments.
This Amazon shipment of aloe vera includes two grower's pots of aloe vera. When you receive them, they'll measure about 10-inches tall.
Click here to see more on Amazon.
13. Rubber Plant
Rubber plants are part of the ficus family, making it an ever-popular houseplant. Its leaves are waxy and have a gorgeous dark hue. They can grow quickly if given the right growing conditions. Start with a young rubber plant to guarantee you'll get many years of indoor growing out of it.
This Amazon shipment includes a rubber tree in a 6-inch grower's pot.
Click here to see more on Amazon.
14. Bromeliad
Bromeliads feature thick green or variegated foliage and a naturally growing rosette in the middle of the plant. They're gorgeous tropical plants that command attention. The color of the rosette varies and can be seen in shades of red, yellow, pink, purple, or orange. Bromeliads naturally purify the air and are very adaptable and resilient.
With this Amazon order, you'll receive a bromeliad in a 6-inch pot. Your bromeliad will either be red, orange, yellow, pink, or purple.
Click here to see more on Amazon.
15. ZZ Plant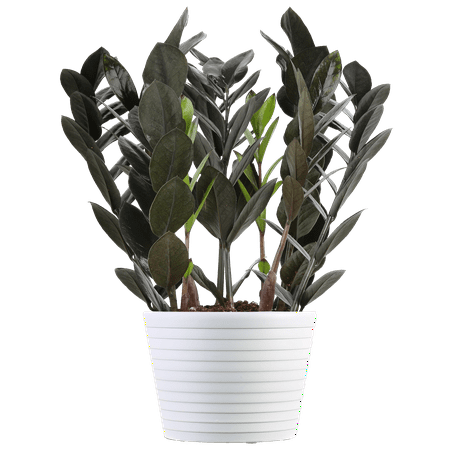 ZZ plants have thick, dark green leaves that extend from a tangle of stems. At maturity, it reaches a height between 2 and 3 feet. This plant can tolerate neglect, is drought tolerant, and can thrive in low-light conditions. It also does a great job of purifying the air.
This Walmart shipment includes a ZZ plant in a 4-inch grower's pot. The plant is ready to be transferred into a different pot.
Click here to see more at Walmart.
16. Chinese Evergreen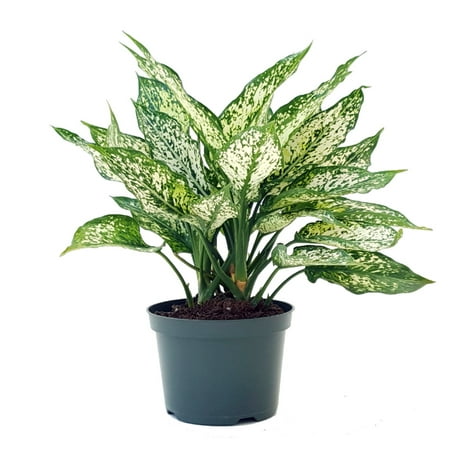 Chinese evergreen plants are foliage-rich and put on quite the display. The leaves are leathery and can be variegated, speckled, or solid green. Whether you're a gardening beginner or expert, this plant is an excellent choice. It's one of the most adaptable indoor plants and can tolerate any indoor condition.
This Walmart shipment includes a White Dalmation variety of the Chinese evergreen. It comes in a 6-inch grower's pot.
Click here to see more at Walmart.
In Closing
Let us know in the comment section below which plant you add to your home! But before you go, be sure to check out these other insightful gardening guides:
7 Indoor Trees With Small Leaves That You Can Grow