Mom plays such an important role in everyone's lives. Whether it's a birthday, holiday, or "just because," it's never a bad time to show mom you love her. And what better way to express your love and appreciation for Mom than with a gift?
If your mom is a plant lover, it's obvious what kind of gifts you should give her. We're here to help you out, so we put together a list of 17 amazing plant-themed gifts for mom! So, without further ado, let's get to it!
1. Set Of 6 Owl Ceramic Planters
These 6 owl ceramic planters are totally adorable and make for the perfect gift. Each owl has a slightly different design and color combination. No time for boring planters here. Each little pot measures 2.2 inches by 2.2 inches by 2.4 inches.
You can position all six of these planters in one spot or intersperse them throughout the home. The succulents are not included, so you could even gift your mom some small succulents to go with the owl planters.
Click here to see more on Amazon.
2. Novelty Face Planter
If your mom has a quirky sense of humor, she'll absolutely adore this planter. The rectangular planter even has a shaped nose and two notches so that you can rest a pair of glasses on its face.
The surface is dry erase, so you can draw on it and give it a variety of features with a dry erase marker. It measures 5 inches high by 4.33 inches wide by 4.33 inches deep. There's also a drainage hole on the bottom.
Whichever plant gets planted in the planter will serve as "hair" for the head. This leaves lots of room for creativity.
Click here to see more on Amazon.
3. "I Wet My Plants" Kitchen Towel
Dish towels are an excellent way to add some character to the kitchen and make a statement. This kitchen towel has the words "I wet my plants" on it with graphics of plants and a watering can.
The towel is crafted from 100% cotton and screen printed with non-toxic ink. Unfolded, the towel measures 28 inches by 28 inches.
Click here to see more on Amazon.
4. Proud Plant Mom Bag
Is your mom a proud plant mom? Help her declare it to the world with the help of this "Proud Plant Mom" reusable bag.
The pattern on the bag consists of a collection of various succulent plants in an assortment of ceramic pots. Reusable bags are helpful to have on hand, and this one will especially make a statement.
The bag measures 15 inches tall by 16 inches wide by 6 inches deep. It's made from 95% recycled polypropylene. Comfortably carry 40 pounds with this bag.
Click here to see more on Amazon.
5. Mason Jar Garden Kit
Gift your mom the ability to start her very own mason jar garden. This herb garden kit comes with 3 mason jars, packages of basil, parsley, and oregano seeds, and six soil pods.
Whether your mom has a green thumb or wants to turn her brown gardening thumb into a green thumb, this kit is here to help.
There's something so satisfying about growing your own herbs and using them in your recipes! This is a gift that keeps on giving.
Click here to see more on Amazon.
6. Funny Coffee Mug
This is the perfect gift for all those moms out there with a brown gardening thumb. If your mom has a tendency of letting her plants die, she'll surely laugh at this mug.
The words "Mom I'm so glad you looked after me better than your plants" is printed on both sides of the mug. The ceramic coffee mug is safe both in the microwave and dishwasher.
Click here to see more on Amazon.
7. Plant Mom PopSocket
PopSockets are nifty collapsible grips that adhesively attach to the back of your phone. The grip helps provide a secure hold as well as for use as a phone stand.
The adhesive back makes it easy to remove and reposition exactly how you want it. The PopSocket is a game-changer and a super helpful phone accessory.
This PopSocket has the words "Plant Mom" written on it with a collection of succulents and cacti.
Click here to see more on Amazon.
8. Ceramic Flower Pot Mug
How cute! This ceramic flower pot can be used as either a mug or a planter. The decision rests upon your mom for how she'd like to use it. She can't go wrong either way.
The purple mug has the words "A blessed few have a mom like you!" inscribed onto it. The saucer can be used as a lid to keep the drink contents warm.
The 14-ounce mug is safe in the microwave and dishwasher. The stainless steel mini gardening spade can be used to stir a drink or to plant seeds. Scripture is engraved into the spade.
Click here to see more on Amazon.
9. Women's Plant T-Shirt
Your mom can showcase her love of plants and gardening when she wears this t-shirt. The 100% cotton t-shirt has a lightweight, relaxed fit.
The shirt comes in four colors: black, gray, white, or yellow. All sizes available and it fits true to size. The shirt says "Plant these. Save the bees" amidst a bunch of flower graphics.
Click here to see more on Amazon.
10. Herbal Tea Garden Seed Starter Kit
Does your mom enjoy planting her own garden? If so, this is the perfect little garden seed starter kit.
This seed starter kit is for an herbal tea garden. The set comes with certified organic seeds for making your own chamomile tea, mint tea, lavender herbal tea, and lemon herbal tea.
It also comes with four burlap growing bags, four peat potting soil discs, pruning sheers, stainless steel tea infuser, bamboo plant markers, a wooden gift box, and, of course, instructions.
Your mom can get plenty of enjoyment out of this single kit—both the joy of planting and growing seeds and the ability to enjoy garden-fresh herbal tea.
Click here to see more on Amazon.
11. "Crazy Plant Lady" Sign
You can't go wrong when gifting home decor. Since you know your mom loves plants, this "Plant Lady" sign is ideal.
Click here to see more on Amazon.
12. Mother's Garden Garden Stone
A garden stone adds a beautiful and unforgettable decorative element to the garden. This particular one helps showcase the love and care of a mother.
The stone features a floral design around it, adding to the charm and whimsy of it. The polystone is treated with a special finish to protect it against the harsh UV rays and other outdoor elements.
The diameter of the garden stone is 12 inches.
Click here to see more on Amazon.
13. Butterfly Suncatcher
This butterfly suncatcher has glass wings with pressed real flowers inside of them. It has a hanging charm that says "Mom" accompanied by two hanging strands of pink beads.
The suncatcher measures approximately 4.25 inches by 4.25 inches and around 8 inches when it's hanging. The way the sun shines through it looks mesmerizing and beautiful.
Click here to see more on Amazon.
14. Mother Of Plants T-Shirt
Is your mom the mother of plants? She'll totally love this t-shirt if she loves plants. The 100% cotton blend t-shirt is lightweight and super comfortable.
There are even 6 colors to choose from: black, white, royal blue, navy, heather gray, and heather navy. Sizes run from small to 3XL.
Click here to see more on Amazon.
15. "Best Mom Ever" Flower Pot
Is your mom the best mom ever? We thought so. This trio of pots is sure to bring a smile to mom's face. Add whatever plants you'd like before gifting it to her for the perfect touch.
Click here to see more on Amazon.
16. Floral Garden Tool Set
This floral gardening tool set will be the perfect addition to your mom's garden. It has all the handy tools she could need, all kept nicely in a carrying tote.
Click here to see this on Amazon.
17. Garden Accent Stone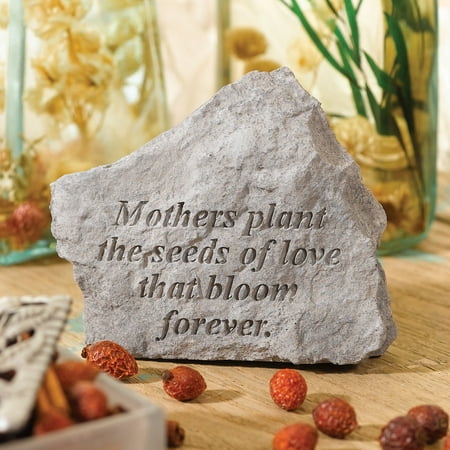 Garden accent stones spruce up the garden. They're a fun decorative element to incorporate into the garden design. This stone has the words "Mothers plant the seeds of love that bloom forever" engraved into it.
It's made with a durable cast stone construction, is lightweight, and is extremely weather-resistant. It only weighs one pound, so it will be easy to move around the garden.
Click here to see more on Walmart.com.
Let us know in the comment section below which gift you give to your mom! Before you go, make sure to check out these other great garden guides:
40+ Gorgeous Window Box Ideas (Flower Power Photo Post)