12 Awesome Planters & Pots For Palm Trees
When choosing an indoor or patio tree, many people look to the palm tree varieties. Though they can grow large in their natural soils and environments, many of them are perfect as container plants. Popular varieties like Sago Palms, Lady Palms, and Cateracterum Palms all do well in pots and grow in the 3'-5' range, but given more space can reach up to 20'. The size of your container will determine how large your potted palm tree can grow.
For palm trees, you want a pot large enough to surround the root ball with additional soil, so it has space to grow and expand. Unlike other trees and shrubs, palm tree varieties don't like their roots messed with or disturbed, so don't feel you need to spread out the roots of a rootbound palm if you transfer it to a decorative pot.
1. Deep 19" Planter In Resin
This attractive square-sided planter has the depth that a palm tree can use. Because your plant can get top-heavy, you want to make sure your planter is sturdy enough to stay put. This is a modern design made of molded plastic that is UV and weather-resistant. It's 19" deep and 13" square and weighs in at just under 4 lbs before being filled with soil.
Click here to see this on Amazon.
2. Tall Self-Watering Planter
This elegant square-sided planter comes in three colors, black, grey, and espresso. It's a tall 32" with 16" square sides. It contains a self-watering insert shelf that has a tube that extends to the surface of the soil. When the plant gets dry, pour water into the tube to fill the tray. Available in many other sizes, but this is a great size for a palm tree.
3. Classic Patio Pot
Here's a beautiful 15" pot, perfect for an indoor palm tree and durable enough to move outdoors when the weather is nice. It has the look of stone but is made of durable resin and comes in an entire range of fun and natural colors (this is blue jean). The 15-inch pot holds 5.6 gallons and has no drain holes upon delivery. However, it's super easy to add them with a drill and a large drill-bit if you want drain holes. C
Click here to see this on Amazon.
4. Saturn Planter With Saucer
This sunny yellow pot comes with its own saucer for catching excess water. The pot has drainage holes pre-drilled into it. The durable resin material is matte in finish and scratch-proof. This 14.5" pot comes in about 20 distinct colors that will guarantee you can find one to match any decor where your palm tree resides.
Click here to see this on Amazon.
5. Classic TerraCotta Look
This large 20" platter has the classic terracotta look but is made in a no-chip, fade, or break, plastic. The pot weighs in at only 3.25 lbs before the soil is added. It comes with an attached saucer and drainage hole, and the rolled rim makes it easy to move around and get a hold of.
Click here to see this on Amazon.
6. Veranda Box Planter
This 5-gallon veranda box planters work super indoors or out. The classic square shape is reminiscent of wooden raised box planters of yesteryear, but these are made of lightweight polyethylene plastic. Available in several colors and sizes, this is a superb choice for your palm tree. It's easy to clean and easy to punch drainage holes into should you need them. (If your palm is in a sheltered space where the soil never dries out, drainage holes are a good idea).
Click here to see this planter on Amazon.
7. Round Planter In Various Sizes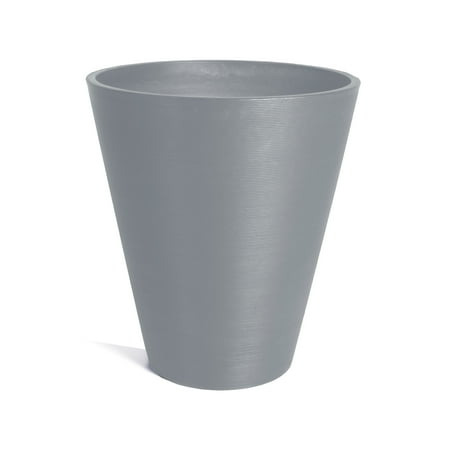 This beautiful sleek planter will look great in modern decors. It is available in four colors: black, grey, terracotta, and espresso, and three sizes: 14", 18", and 22". The larger sizes are great for potted palms because they have nice height and room for soil. The taller pot will look proportional with a larger palm tree plant.
You can see these great pots here at Walmart.com.
8. Birch Look Planter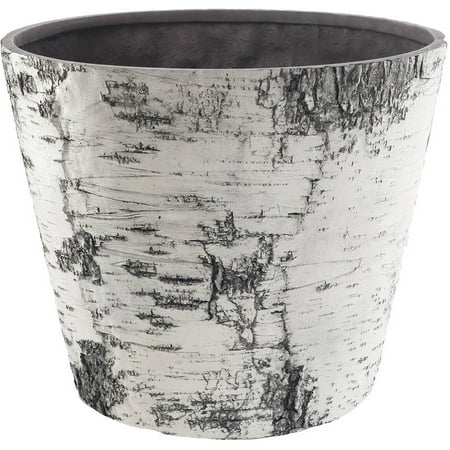 This planter is unique as the exterior design resembles the bark of a birch tree. It's like planting your tree in a tree. The subtle black, white, and grey design will work well in a plethora of decor styles, and your potted palm will look amazing, sprouting out of its tree pot. This pot is 20" in diameter and weighs a mere 4.5 lbs before filling. It's an easy-care resin material and has drillable drainage holes easily if needed.
Click here to see this planter at Walmart.com.
9. Turkish Urn Style Planter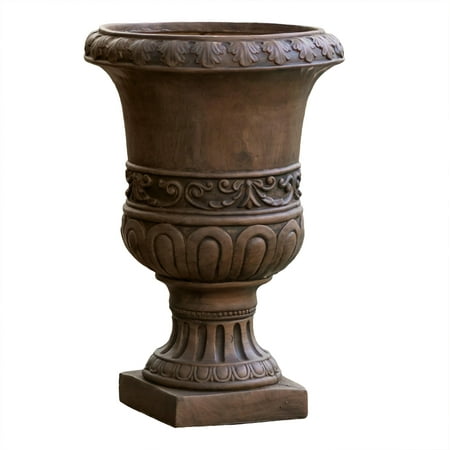 This planter evokes classical Grecian urns with its raised pot and curlicue designs. It is made of quartz stone composite and weighs about 29 lbs; therefore, it's probably best for an outdoor potted palm tree. It is a beautiful natural brown shade, and measures at 18.5" width and depth and stands 26" tall overall.
Click here to see this urn planter at Walmart.com.
10. Braided 22" Resin Planter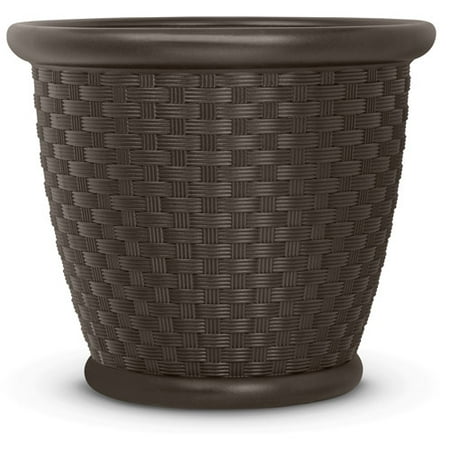 This round planter has a braided basket-weave texture stamped into its resin body. The java brown color will look great as a contrast to your plant's color. The planter measures 22" x 22" x 20" so will work for a sizeable potted palm tree. This has drillable drainage holes so you can decide whether you need them, then put them in yourself.
Click here to see this classic-style planter at Walmart.com
11. Two Pack Urn Planters

This is a double set of 5-gallon tall resin planters for your beautiful potted palm trees. These planters stand 28.5" tall. The tops are 16" x 16" with an opening of 12.5" x 12.5" and the bases are 11" x 11". It has a drop-in inner-tray for self-watering and is easy to drop in a potted plant into the top rather than planting directly into these planters. You can also plant directly into them if you choose.
Click here to see this pair on Amazon.
12. Lightweight Concrete Urn Planters
This picture shows just how perfect these urn style plants are for potted palm trees. The fronds sway delicately above the handles and feminine shape of these planters. It's available only in the antique black color seen in the center plant in this photograph. The planter is made of lightweight concrete, has a drainage hole, and weighs in at 31 lbs. before planting.
Click here to see this gorgeous planter on Amazon.
Now that we've got you excited about planting your palm trees in some of these perfect planters for palms, let's check out a few other palm tree posts here at GardenTabs.com below:
11 Low-Maintenance Palm Trees That You'll Love