8 Awesome No-Dig Garden Edging Ideas You Should Check Out
Love the look of orderly garden borders but don't want to endure the back-breaking and time-intensive labor of digging and installing edging?
Well, you're in luck. No-dig garden edging allows for easy installation and time savings!
Use the edging for lining walkways, separating gardens, creating tidy borders, and circling trees. Clearly define the boundaries between lawn and garden while making everything look neat and orderly!
You can achieve a variety of aesthetics, depending on the edging you use.
Consider the following types of edging for a no-dig border: large rocks, flexible plastic, brick, concrete pave stones, decorative metal, timber, or river rocks.
Check out the photos below to find some inspiration to install your own no-dig garden edging!
1. Rock Edging
Edging your garden with large rocks adds dimension and order. Since stones are freestanding, you can easily form the shapes and figures you want with them.
Make tree circles, line a walkway, line a garden bed, or edge whatever else you see fit.
The rocks, like in the photo above, help separate your garden from your lawn as well as keep mulch and other garden fillers together.
Depending on your climate, the rocks may suffer a little more from harsh weather conditions.
Over time, the rocks may sink into the ground, so you'll have to fill in the divots with dirt and then reset the stones.
The result is way worth the time involved! Rock garden borders are a charming addition to any garden.
2. Plastic Flexible Edging
Plastic edging may be the edging with the lowest profile. As one of the most affordable types of edging, plastic may be high on your list of considerations.
The plastic edge manipulates well, allowing you to have a lot of freedom with the ways you want it to snake around your garden.
The edging will help train the plants as they grow and mature, keeping them in the correct location in the garden.
When it comes to plastic edging, you're not exactly using it as a garden aesthetic booster!
Not that it's an eyesore, but there are other more artistic options.
With plastic edging, you get a great bang for your buck!
EasyFlex Plastic Edging
Receive 100 feet of plastic edging when you order this product.
Click here to see more on Amazon.
Plastic Edging
Each coil is 60 feet long.
Click here to see more on Amazon.
3. Brick Edging
Brick is durable, reliable, and a timeless classic. There are so many different styles, colors, and shapes of bricks on the market, allowing you to let your design creativity flow.
Brick is a popular choice amongst homebuilders and gardeners alike: it's a beautiful and robust material.
Use it to line a walkway, separating flagstones from your garden beds or shrubs.
Let the bricks wind in a curved pattern or keep it in a straight line. Stack bricks on top of each other to add more height or leave it in single rows.
Bricks can withstand virtually any type of weather and climate. This makes them ideal for edging your garden.
Curved Scallop Edge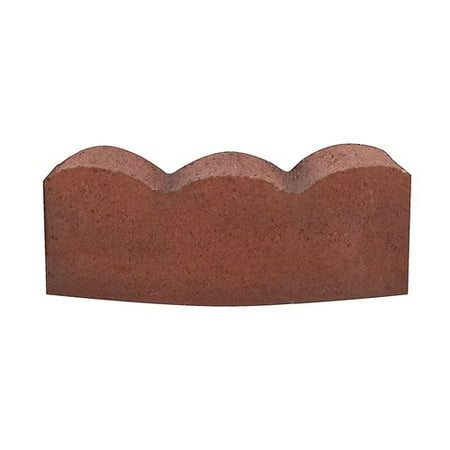 Click here to see more at Walmart.com
4. Pavestone Edging
This type of stone is the best option for constructing retaining walls of all heights, as seen in this photo.
The shape of the stone is ideal for stacking, and the texturized front adds dimension and intrigue.
They also do a great job of keeping dirt and mulch contained. Thanks to these stones, your plants will have the spotlight in raised beds!
The stones are low maintenance and are relatively easy to install. You don't need to use concrete to place the rocks- all you need to do is stack them.
The shape of this stone allows you to create straight or curved lines. The light grey color of the stone matches any garden style and only improves the aesthetic.
Pavestone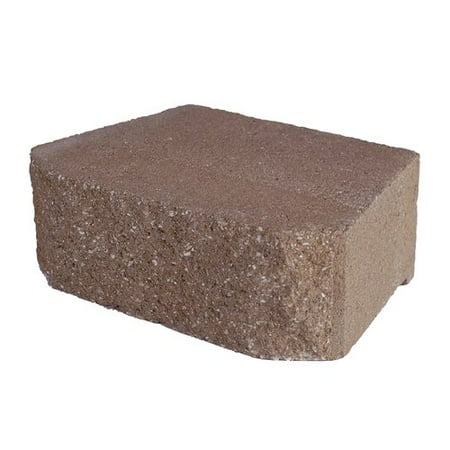 Click here to see more on Walmart.com
5. Elevated Metal Edging
Elevated metal edging comes in many different shapes and forms. Some are more decorative, while others are more simple and plain.
You have the freedom to decide what type of aesthetic you wish to have.
This type of garden edging may not necessarily keep out weeds or other unwanted growers, but it will serve as separation.
Due to the variety of metal choices, you'll be able to pick one that has the attributes you're most looking for flexibility, durability, and resistance to rust.
It requires zero to little maintenance, making it a top choice for many people. Options are truly limitless when it comes to lining your garden with metal edges.
Like the photo above, use decorative metal edging to separate a walkway from a lawn or garden. This helps keep unwanted walking on the grass and garden.
Using it as a deterrent from walking, your lawn and garden will stay fresh and full for a longer time.
Metal Decorative Edge
Each package has five panels, for a total length measurement of 7.5 feet.
Since you can easily stake it into the ground, you can also easily remove it! Move it around to change things up if you wish.
Click here to see more on Amazon.
Iron Garden Fence
This package comes with eight sections of iron fence paneling for a total length measurement of 10 feet.
Click here to see more on Amazon.
6. River Rock Edging
River rocks occasionally called rock mulch, come in a variety of shapes, sizes, and colors. The stones have become smooth from having rushing water pour over them. River rocks are an attractive option for garden edges.
To best keep weeds out, you should first lay out a fabric garden lining. Then you can proceed to pour the river rocks over the lining.
Due to their durability and strength, river rocks are very easy to maintain.
Remember that some of the rocks can get kicked up and misplaced, so you may have to replace the missing stones every once in a while.
20 Pounds of River Rock
This river rock is charcoal grey, naturally increasing your garden's aesthetic.
Click here to see more on Amazon.
7. Wooden Edging
If you can manage to find a large tree trunk, use it as a garden edge by all means! It gives your garden an organic appearance, allowing nature to remain the focal point.
However, other great options exist if you want to use wood as your garden edge. There are many types of wood, each with different characteristics.
You can get treated or untreated wood, but we recommend treated wood for an increased lifespan.
Timber is strong and durable, helping it to stand the test of time. It's an easy edging to work with, and you can easily manipulate it to form the shape you want.
Sectioned Wood Edge
Each section of wooden paneling is 30 inches long, and the package comes with eight sections. The total length is 20 feet.
Click here to see more on Amazon.
8. Bamboo Edging
Bamboo garden edges are both organic and exotic. Bamboo is highly renewable, so you don't have to be concerned with using too much of it in your design.
You can find bamboo in a variety of styles: woven, paneled, latticework, or spaced vertically. Options allow you to use the edge in a way that exactly fits your needs.
Cost varies, depending on the style you purchase. Bamboo is one of the cheapest options, though.
One of the only cons of bamboo borders is that it may rot over time since it's an organic material.
Although it is a long-lasting material, there will eventually come a time when it needs to be replaced. To increase its lifespan, use a sealant.
Bamboo Border
Easily section off your garden with these bamboo border sections with stakes. Each package comes with five sections.
Click here to see more on Amazon.
4 Foot Bamboo Poles
If you want to create more of a latticework border like in the photo above, your best option is to create one yourself with these bamboo poles!
Cut the poles down to the desired height and length and tie together with some twine or other fiber.
Click here to see more on Amazon.
For More Reading
If you're looking for a cost breakdown for all kinds of garden edging, check out the article How Much Does Garden Edging Cost?
To make sure you're well informed, check out these 11 Types of Edging for Gardens You Need To Know.
Now that you know you want to install garden edging, here's Where to Buy Garden Edging [Top 30 Online Stores].