16 Gardening Gift Baskets And Kits You Should See
Right now many of us are gardening more than ever. More time at home and beautiful spring weather are fantastic reasons to get outdoors. And if you have a gardener in your life, you know how appreciated new things from the garden shop can be. Whether it's handy new tools, a great new pair of gloves, or packets of seeds, gardeners love to receive garden-themed gifts.
Garden-themed gifts are also about an experience rather than simply things. Giving an experience is something people remember for a long time. We've compiled a grouping of 16 of the best gardening gift baskets we could find and have them listed below. From gift baskets to gardening kits and even gardening kits for children, we're sure to have the perfect item for your loved one.
Gift Baskets For Gardeners
1. Garden Tools And Gourmet Snacks
Great gardening tools combined with gourmet snacks? Sign us up. This gift basket gives a nod to the hard work your gardener puts in working the soil. Because every bit of hard work needs to be fueled by some delicious snacks!
Click here to see this basket on Amazon.
2. Bless Your Bloomers Gift Basket
Your neighborhood garden association does a fabulous job keeping the common areas blooming and gorgeous. So why not gift the hard-working president with this beautiful basket. A polyester garden tote spills over with handy gardening tools and also includes delectable treats. Seed packets are sprinkled in with crackers.
Click here to see this on Amazon.
3. Six-Piece Gardening Gift Set With Tote
Here's a handy collection of gardening tools in a soft-sided canvas tote bag. The kit contains a pruner, snips, rake, trowel, shovel, and an awesome glass spray bottle. The tote has a reinforced bottom, brass grommets, elastic tool bands, and an eight-pocket capacity. This is a perfect gift for an apartment dweller who wants an easily stored set for house plants.
Click here to see this on Amazon.
4. Lavender Garden Tool Kit
Who needs a car kit when you can have a gardening kit? This adorable set is modeled after traditional tool kit containers but instead holds garden tools. The four tools have handles in floral patterns of lavender and rose. It includes a purple spray bottle and is all fitted into a lavender purple snap-shut case.
Click here to see this on Amazon.
5. Garden Party Gift Basket
This fun gift basket is a perfect surprise for your favorite green thumb. A couple of gardening tools, some hand lotion for hardworking hands, flower seeds, and yummy treats are all collected into a floral planter. When all the goodies are gone, then use the planter for your seeds and show off your present for weeks to come.
Click here to see this on Amazon.
Gardening Gift Kits
6. Raised Bed Garden Box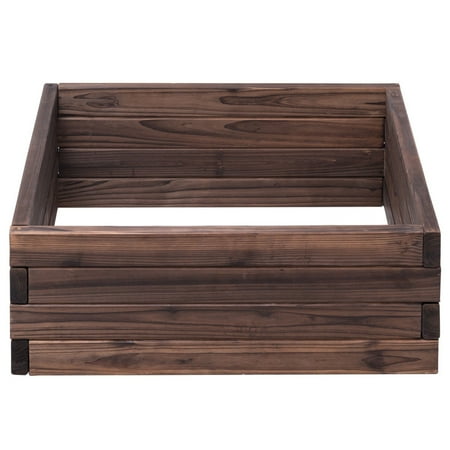 This wooden garden box is a simple way to start the raised bed herb garden of your dreams. The 2' x 2' box is 10" deep and made out of 1" thick fir boards. Add a bag of soil and a couple of packs of herb seeds or starter plants and you'll have the perfect gardening gift.
Click here to see this at Walmart.com.
7. Strawberry Growing Kit
Here is everything you need to grow strawberries in one simple box. The kit includes 4 biodegradable growing pots, 4 coir expanding-soil discs, 4 bamboo plant markers, 1 moisture meter, 4 seed packets (Alpine Juicy Strawberry, Himalayan Goji Berry, Honeydew Melon, Sugar Baby Watermelon) and a comprehensive instruction booklet.
The moisture meter lets you know if your plants need water or not. This is a great gift for the person who loves experiences, not things, and it will provide sweet edibles at the end of the journey.
Click here to see this on Amazon.
8. Mason Jar Herb Garden
The cute factor for this amazing gardening gift is off the charts. Three metal mason jars in differing colors are accompanied by 6 soil pods and 3 packets of seeds: rosemary, basil, and sage. Your gift recipient will be able to follow the instructions to plant and grow their own darling herb garden like the one here in the picture. And herbs keep on giving, as they're so handy to have around for use in the kitchen.
Click here to see this on Amazon.
9. Ranch Dressing Herb Garden
Grow the herbs for your favorite ranch dressing right on your kitchen counter. No soil, no sun, and no experience required. The Tasty Sprout by AeroGarden has room for 3 different herb plants and gives you the absolute freshest flavors no matter what the weather is like outside.
The kit ensures no pesticides by growing your own. Plants will grow 5x faster than in soil. The kit includes dill, parsley, and chive seeds along with liquid nutrients.
Click here to see this at Walmart.com.
10. Windowsill Herb Garden In Cute Wooden Box
This beautifully made cedar box is the perfect size to grow herbs on your sill. The box measures 16" long x 6" wide x 6" deep. Fill with the included potting mix and add the included seeds. It comes with oregano, cilantro, basil, dill, and parsley. It even includes black garden markers so you know which is which as they sprout. This is such a great gift for an aspiring green thumb.
Click here to see this on Amazon.
11. Bonsai Tree Starter Kit
Bonsai trees are absolutely magical. Tiny versions of our majestic larger trees are carefully crafted and cultivated over the years. With this kit, you can begin your own bonsai creations.
Each one comes with 4 types of miniature bonsai tree seeds, 4 bonsai soil potting mix pods, 4 burlap bonsai pots or grow bags with sewn-in liners, 4 printed bamboo plant markers for bonsai plant name & Sowed-On Date, a bonsai tool, instructions, a how-to video link, and a wooden gift box or planter box.
Click here to see this on Amazon.
12. Tabletop Zen Garden Kit
Sometimes even green thumbs need a moment of utter repose. This petite tabletop zen garden will provide hours of rhythmic enjoyment as the recipient arranges the stones and rakes the sand into perfect configurations. The tea candle is not included so you can choose the scent of your choice when you purchase one for the included candle holder.
Click here to see this on Amazon.
Garden Gift Kits For Children
13. Garden Tote And Tool Starter Kit For Kids
This cute tote is burlap and fabric printed with vegetable and fruit designs. Each kit has packets of vegetable seeds, biodegradable pots, seed starting disks, and the perfect set of starter tools with easy handles and cute printed metal. The little watering can is the perfect size for small hands. The gardening gloves are covered in carrots.
Click here to see this on Amazon.
14. Garden Play House Growing Structure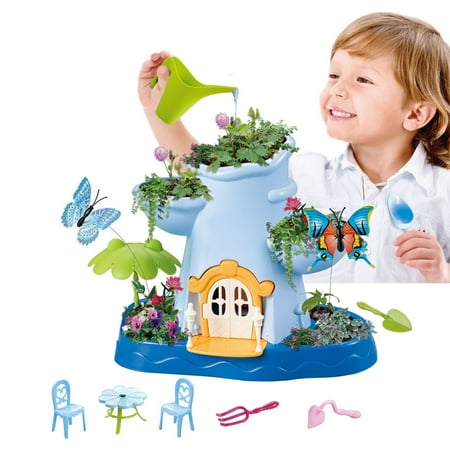 This fairy house is a unique combination of a toy with a garden structure. 5 little balcony containers hold soil and seeds for growing plants, but the front door of the treehouse opens and has a button to push for lights and music. The set comes with a tiny table and chairs for make-believe treehouse guests and it also includes child-sized gardening implements. It also includes soil and seeds.
Click here to this at Walmart.com.
15. Grow And Glo Dinosaur Habitat
This is a really awesome terrarium kit and a super fun activity for your kids. It comes with everything you need for 2 full plant life cycles.
It includes toy dinosaurs, dinosaur fossils, a light-up volcano, lava paint, glowing stones, planting container, potting mix, quick grow chia, wheatgrass and bean seeds, soil scoop and a plant mister. You can add the glow paint to any of the structures for your terrarium to glow in the dark!
Click here to see this at Amazon.
16. Root-Vue Farm For Kids
Really want your kids to learn about gardening and how their food grows? Then check out this Root-Vue Farm. Plants grow in an acrylic box where you can see radishes, carrots, and green onions grow and reach down into the visible soil.
The kit includes the planting box with acrylic window, a basin with drainage reservoir, some grow mix, several plant identification labels, root markers, a growing chart, three packets of seeds, and an instruction booklet.
Click here to see this on Amazon.
We hope you've enjoyed our compiled list of awesome gifts for gardeners, aspiring gardeners, and gardeners in the making. If you enjoyed this list, please take a look at these others:
16 Awesome Gifts for Elderly Gardeners