The balcony is one of the best areas to place plants. A balcony garden livens up a space that would otherwise be plain and boring. Be the envy of your neighbors with a bright and lively balcony garden.
The biggest consideration when choosing balcony garden containers is space. Since balconies generally have limited space, it's important to choose planters that will fit nicely in the space. Thankfully, there is a wide variety of planters on the market that are great for balcony gardens.
If you're overwhelmed with the many choices on the market, don't worry. To help in your search, we created a list of 10 awesome balcony garden containers. Without further ado, let's get into it!
Standing And Hanging Planters
Standing planters are containers that rest directly on the ground. These are often used for gardens on porches and decks, but the right sized standing planter is perfect for a balcony. You can hang hanging planters from hooks in the ceiling or from bars hung across the ceiling. These are excellent planters for showy, flowering plants and trailing plants.
1. Ivanhoe Path White Outdoor Planter
This planter is made out of linear low-density polyethylene for added strength and durability. It's sure to withstand just about any weather conditions. It measures 15.75 inches by 15.75 inches by 15.75 inches. What makes this planter is unique is that it boasts a built-in LED light. The soft glow of the light is sure to brighten up the space at night.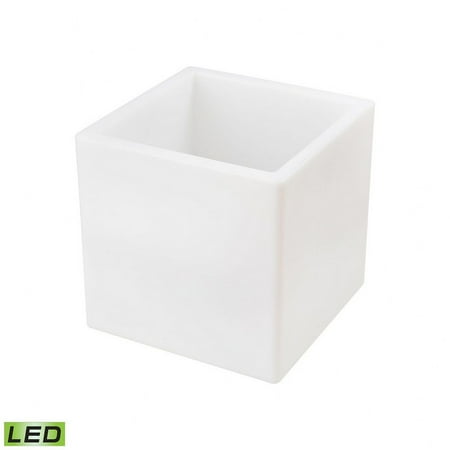 Click here to see more on Walmart.com.
2. Coral Coast Westmore Wicker Balcony Planter
This beautiful planter is made out of UV-resistant resin wicker, so it's sure to withstand years of solar abuse. The wicker design makes this planter the perfect aesthetic addition to virtually any balcony garden. Fill in the planters with gorgeous blooms and greenery. Simply hang it from your balcony railing with the included hooks. This product can be purchased as a single or in a set of 2.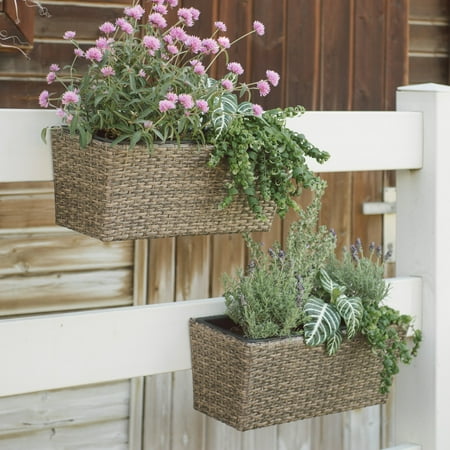 Click here to see more on Walmart.com.
3. Miles Kimball Chippendale Planter Box
This unique planter box will be a beautiful addition to your balcony garden. It features a traditional lattice design, and the box is made out of sturdy polypropylene. This planter measures 38.1 inches by 38.1 inches by 9.7 inches, so it's the perfect size for a balcony. The assembly process is easy — simply snap the pieces together and insert your favorite plant!
Place it in the corner of your balcony or use it as a focal point in your balcony garden design.
Click here to see more on Amazon.
4. Multicolored Hanging Flower Pots
This set contains 8 different colored iron planters, each one measuring 3.9 inches by 2.6 inches by 3.9 inches. Simply hang each planter over the rails of the balcony and add a little plant inside each one. This set of planters is a great way to add a lot of color to a balcony garden. Consider matching the color of the planter with the same color plant for a fun rainbow design!
Click here to see more on Amazon.
5. GardenBasix Self Watering Planter Pot
What makes this planter pot unique is its self-watering design; it can store enough water for up to a week, so you don't have to worry about watering it every day. It even has a water level indicator, so you can easily monitor the plant's water supply.
This planter measures 20 inches by 8 inches by 8 inches. It is relatively plain in appearance, so it'll be a seamless addition to your balcony garden.
Click here to see more on Amazon.
Bridge Planters
Bridge planters are essentially normal planters with a recessed portion designed to fit snugly over the rails of a balcony. If you don't want to worry about hooks or any other installation hardware, these types of planters are an excellent idea.
6. Corsica Flower Bridge Planter Set
This includes a set of 2 pots bridge planters that each measure 30 centimeters. They are clay orange in color, so they look like traditional terracotta flower pots. Both pots have a deep recessed portion, so they'll fit nicely over your balcony's rail.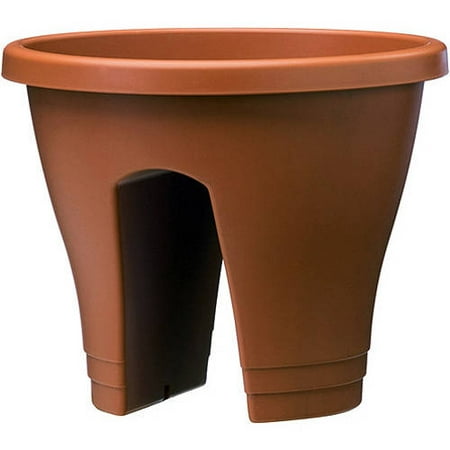 Click here to see more on Walmart.com.
7. Resin Corsica Flower Bridge Planter - Mint
This large oval bridge planter is mint in color. It is relatively wide, so it will be able to accommodate a large plant or an arrangement of several small plants. If you're looking for a balcony planter that will add a unique pop of color, this one just might be for you!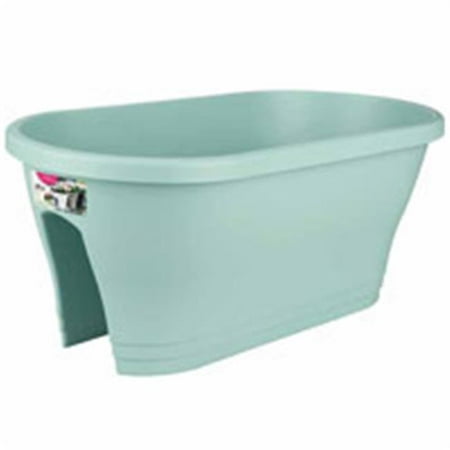 Click here to see more on Walmart.com.
8. Exaco Trading Co. Vintage Blue Corsica Planter
No balcony should have to go without a bright floral and greenery addition. This is another large bridge planter that would be a great addition to a balcony garden. It even comes with spacers that will help secure and stabilize the planter to the fence or rails. The planter measures 24 inches by 12 inches by 10 inches, and it is vintage blue in color.
Click here to see more on Amazon.
9. Balcony Railing Flower Box Set
This set of bridge planters is quite unique in appearance. They are made out of UV-resistant plastic with a classic and elegant wicker-style texturing. There are 2 drainage holes on each side, so you won't have to worry about excess water pooling in the bottom of the containers.
Each pot measures 12 inches by 10.5 inches by 10 inches, and each one has a capacity of 1.5 gallons. This product includes 2 clips that help stabilize the planters to the rails.
Click here to see more on Amazon.
10. Emsco Group White Rail Planter
The recessed portion on the bottom of this planter has 2 different sizes (1.25 inches and 3.875 inches), so it's sure to fit your balcony's rails snugly. The planter is 24 inches long, so there's plenty of space to create a gorgeous floral arrangement.
This container also has sufficient drainage, so you don't have to worry about water accumulating at the bottom.
Click here to see more on Amazon.
We hope this guide has helped you find the perfect planter(s) for your balcony garden. Before you go, be sure to check out these other guides that might be of interest:
How To Grow Tomatoes On A Balcony